Grades 7-11 Chromebook Return Charge your Chromebook to 100% Return Chromebook and charger to the teacher based on your last name in the image. Make sure teacher is available to check in the device and charger, do not leave it in the room without checking in with the teacher.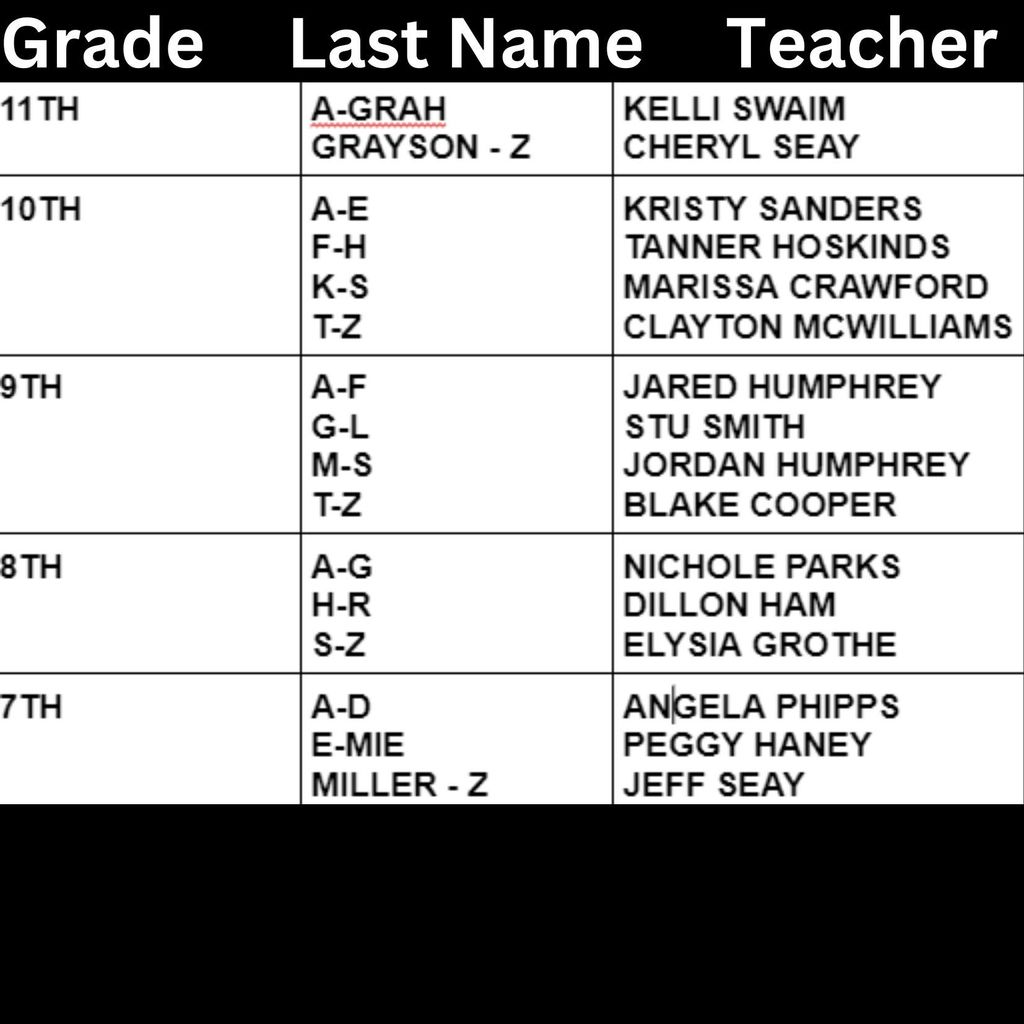 MHS: Athletic Banquet Tuesday, May 16, 2023 5 PM MES Cafeteria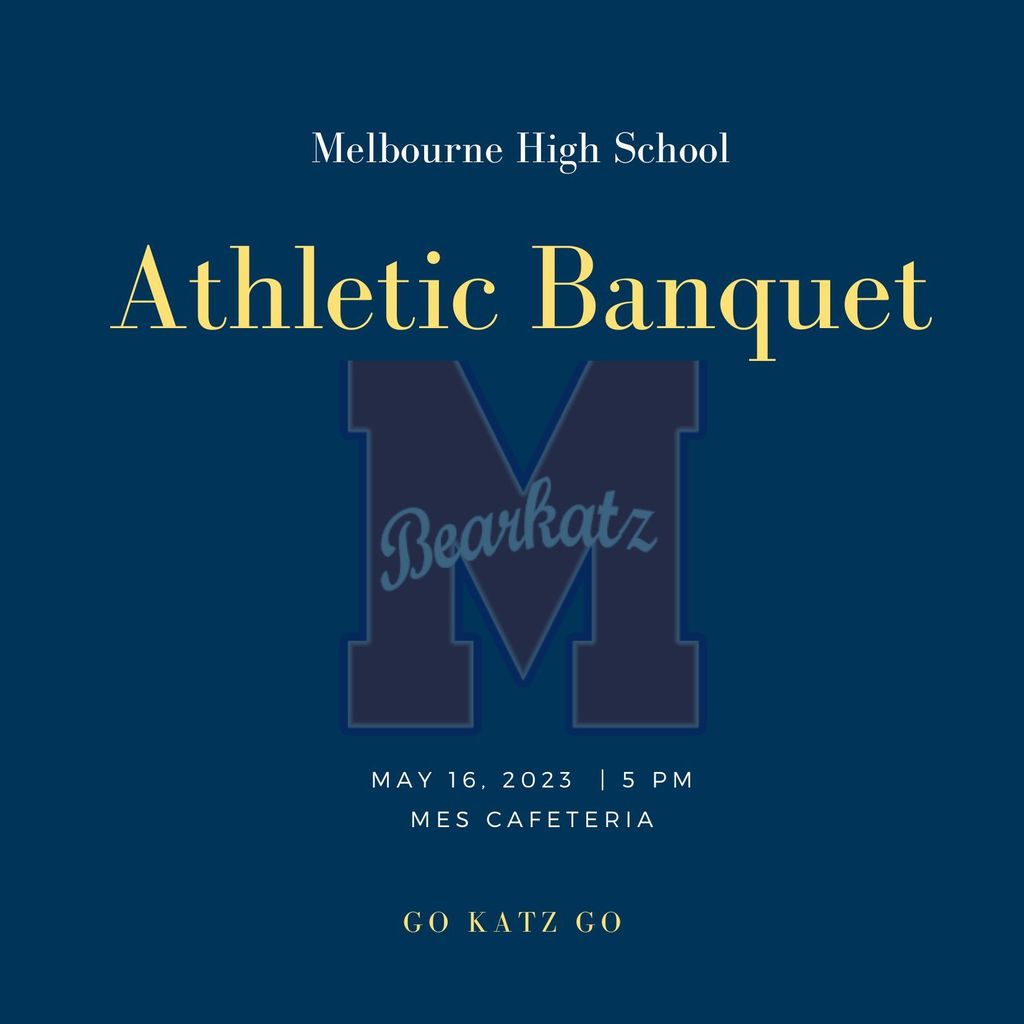 Attention, MHS Summer and After-School Parents! We need your feedback!
https://survey.alchemer.com/s3/7277496/20691
Please click the link and answer a few short questions if your child participated in any of the following: the summer field trip enrichment program, summer ACT camp, high school after-school tutoring, or any of the following clubs--Painting club, Cooking club, Cosmetology, Debate, Drama, Iconic Movie, Anime, International Foods, Pottery, Dungeons and Dragons, Board Game, Disc Golf, Iron Club, Chess. And as always, thank you for all of your support!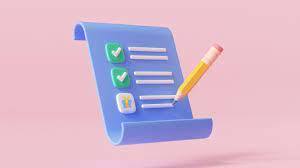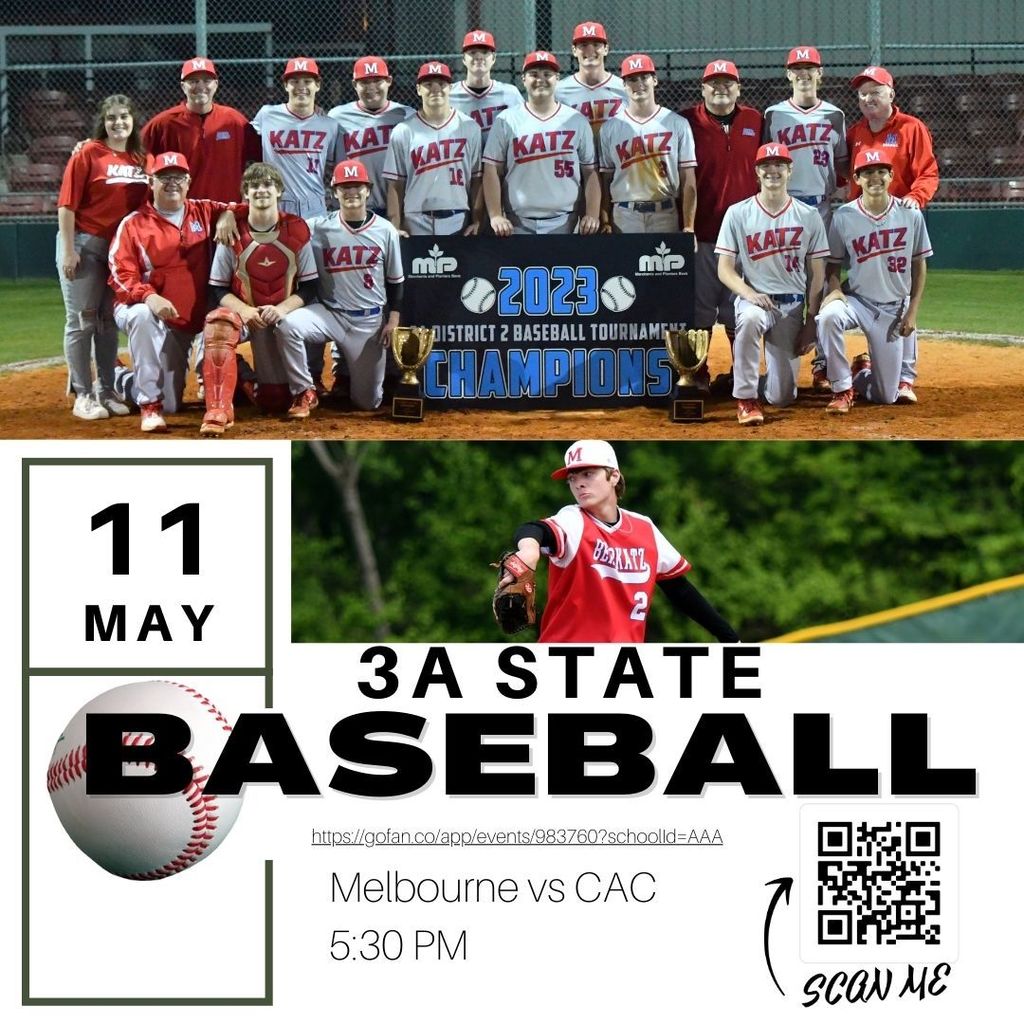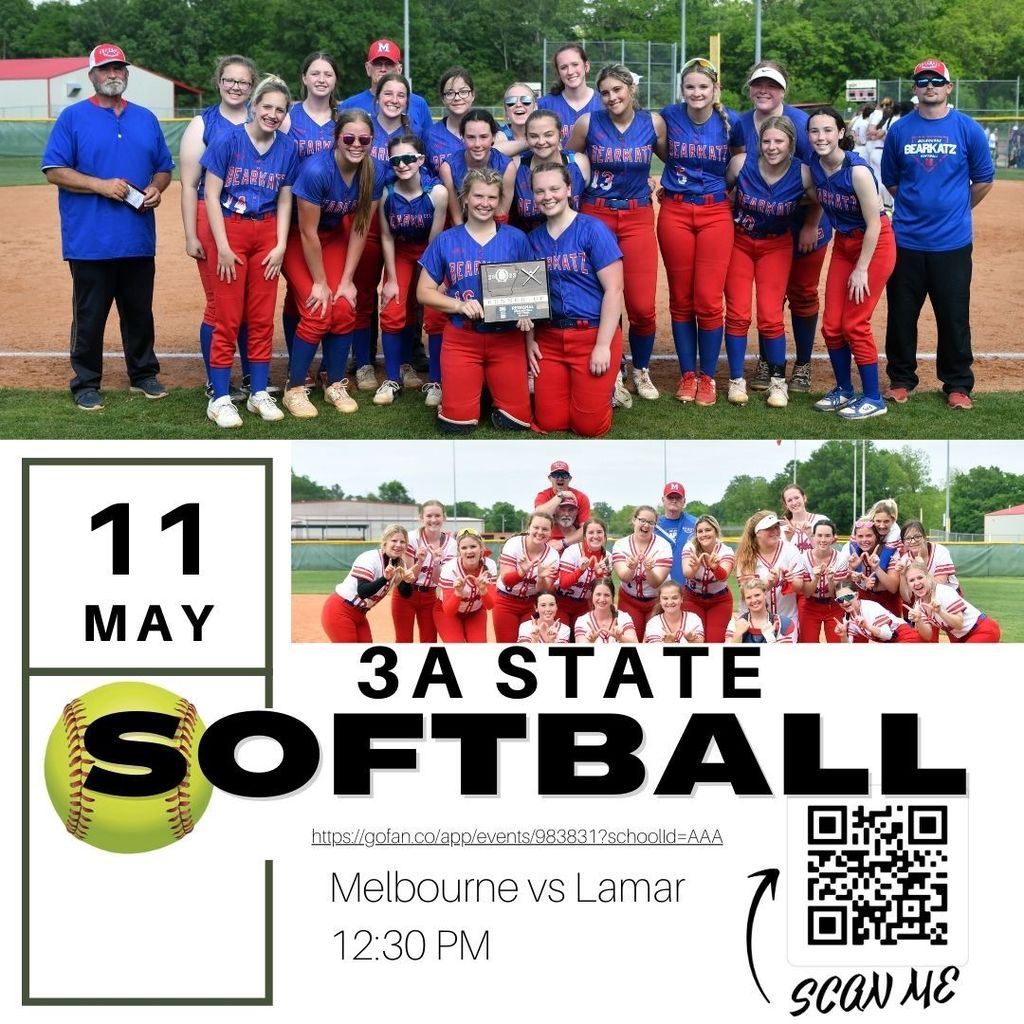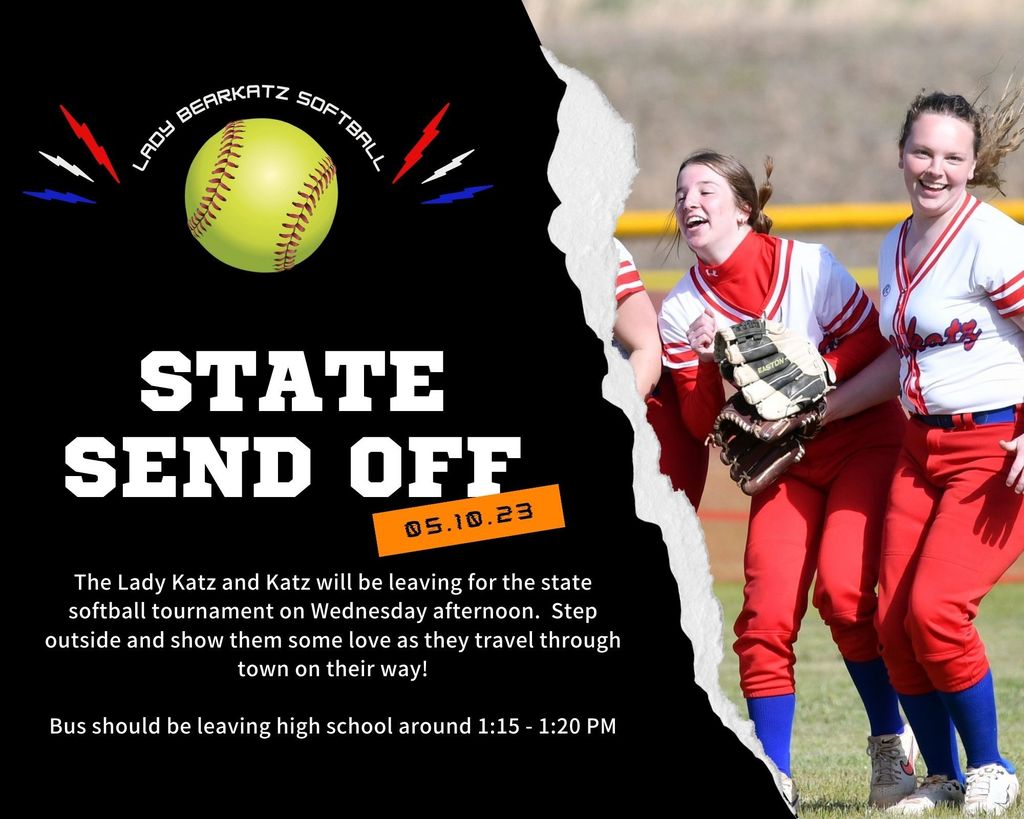 The Awards Ceremony for Melbourne High School has been moved to Monday, May 8 at 1 PM in MHS Gymnasium!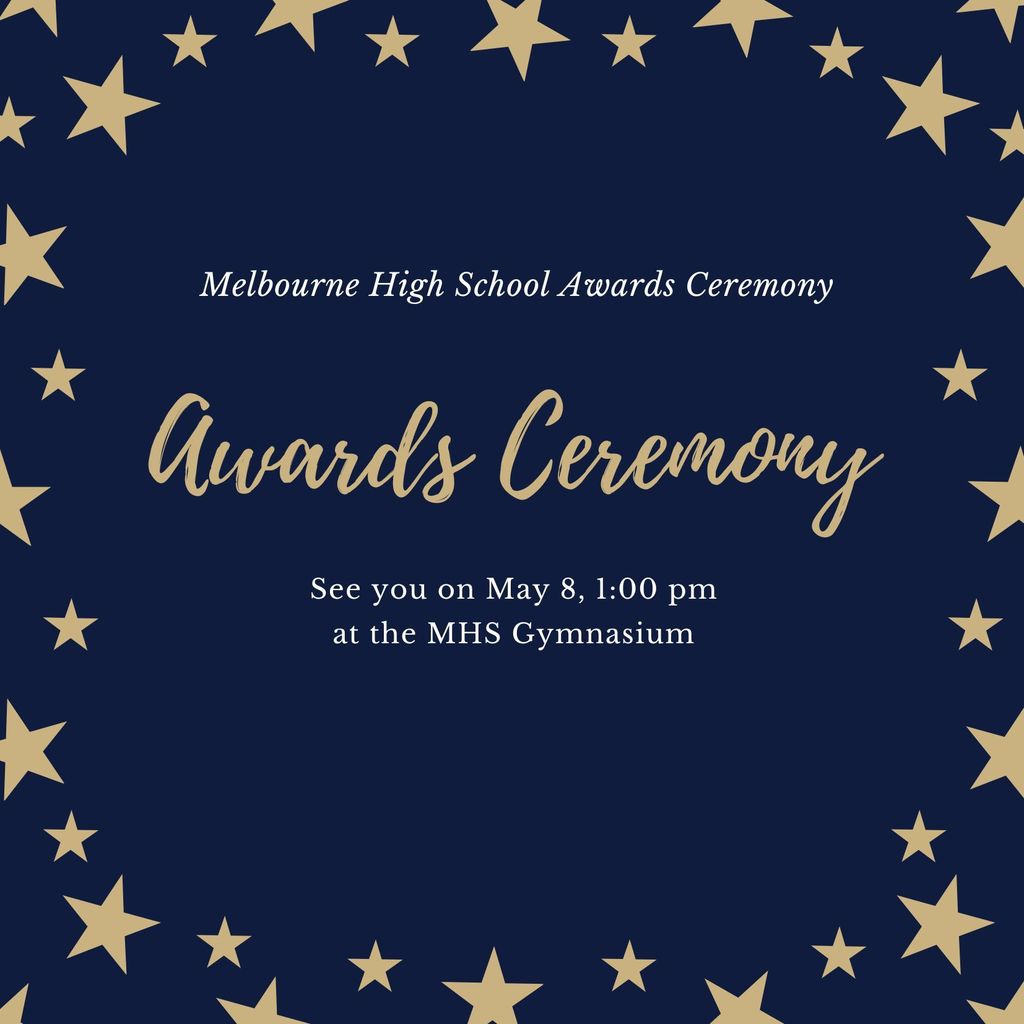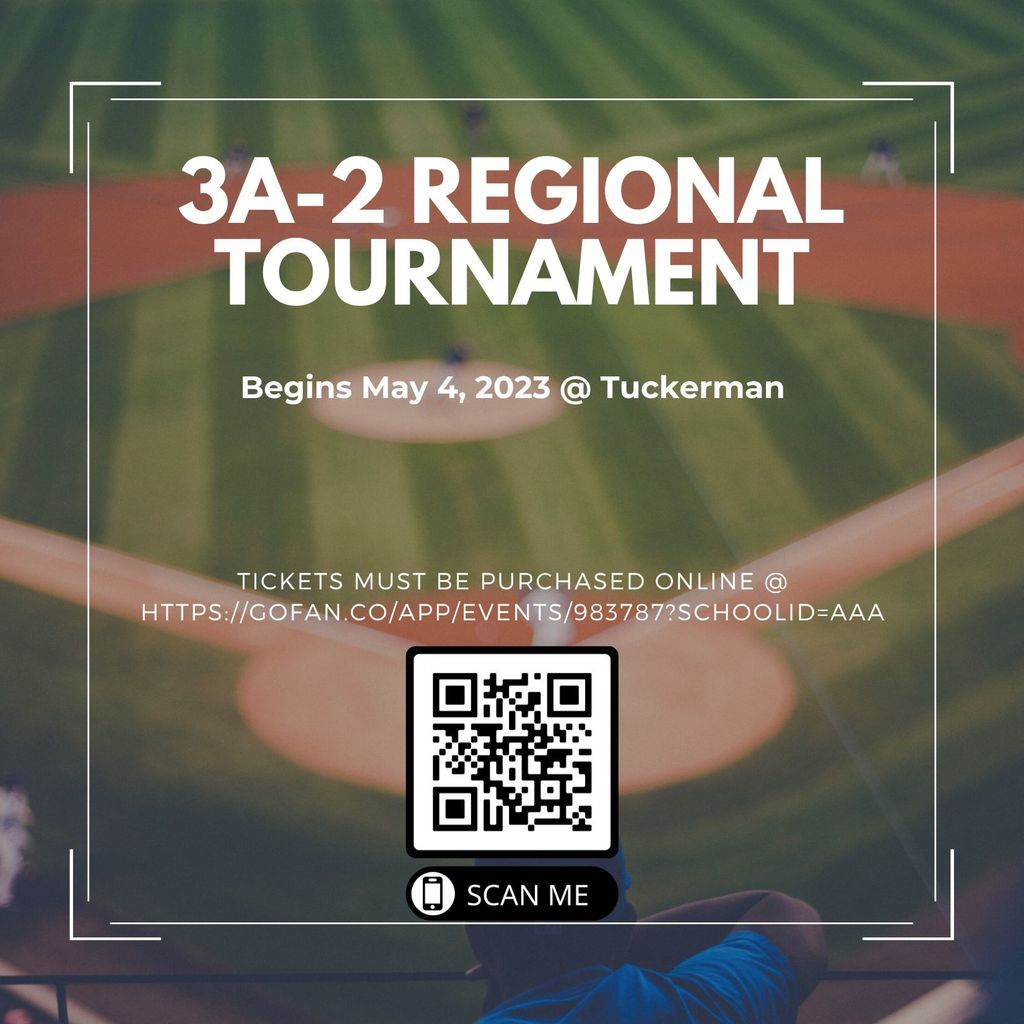 Join our Team! Melbourne School District is currently looking for * Elementary Teacher * High School English Teacher * Kitchen Manager * Dietary Manager *. Volleyball Coach Please send resumes to
tim.massey@melbourneschools.org
PO BOX 250 Melbourne, AR 72556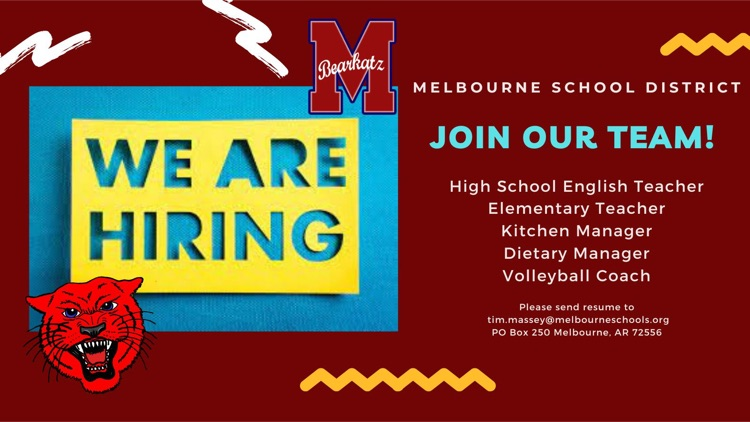 Monday, May 1st is the deadline to submit the Arkansas School Choice Form. We would love to have you join the Bearkatz Nation Family! Scan the QR code below for a link to the school choice appilcation or go to
https://core-docs.s3.amazonaws.com/.../School_Choice
... #gokatzgo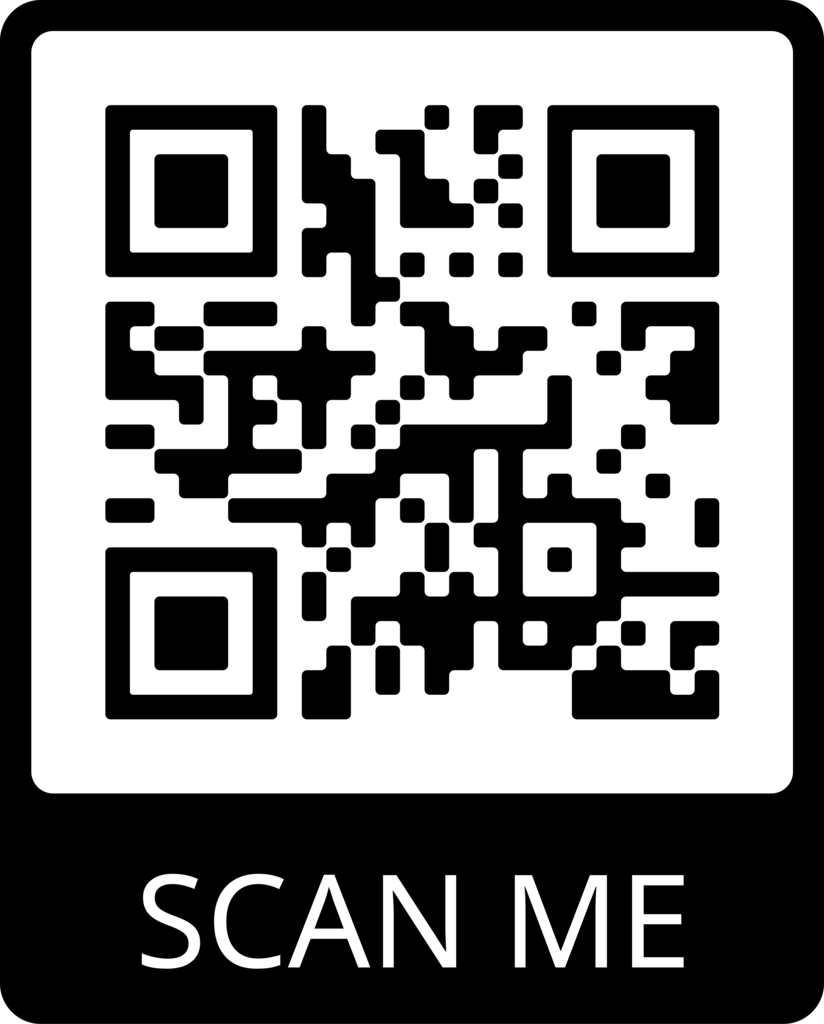 Calling Bearkatz Nation! The Diamond Katz girls and boys play in the 3A-2 District tournament semi-finals this afternoon at Tuckerman and they need your support! Come out and be loud for them! Boys take on Tuckerman at 4 PM and girls take on Salem at 6 PM. GO KATZ GO These kids are fun to watch them play the game they love!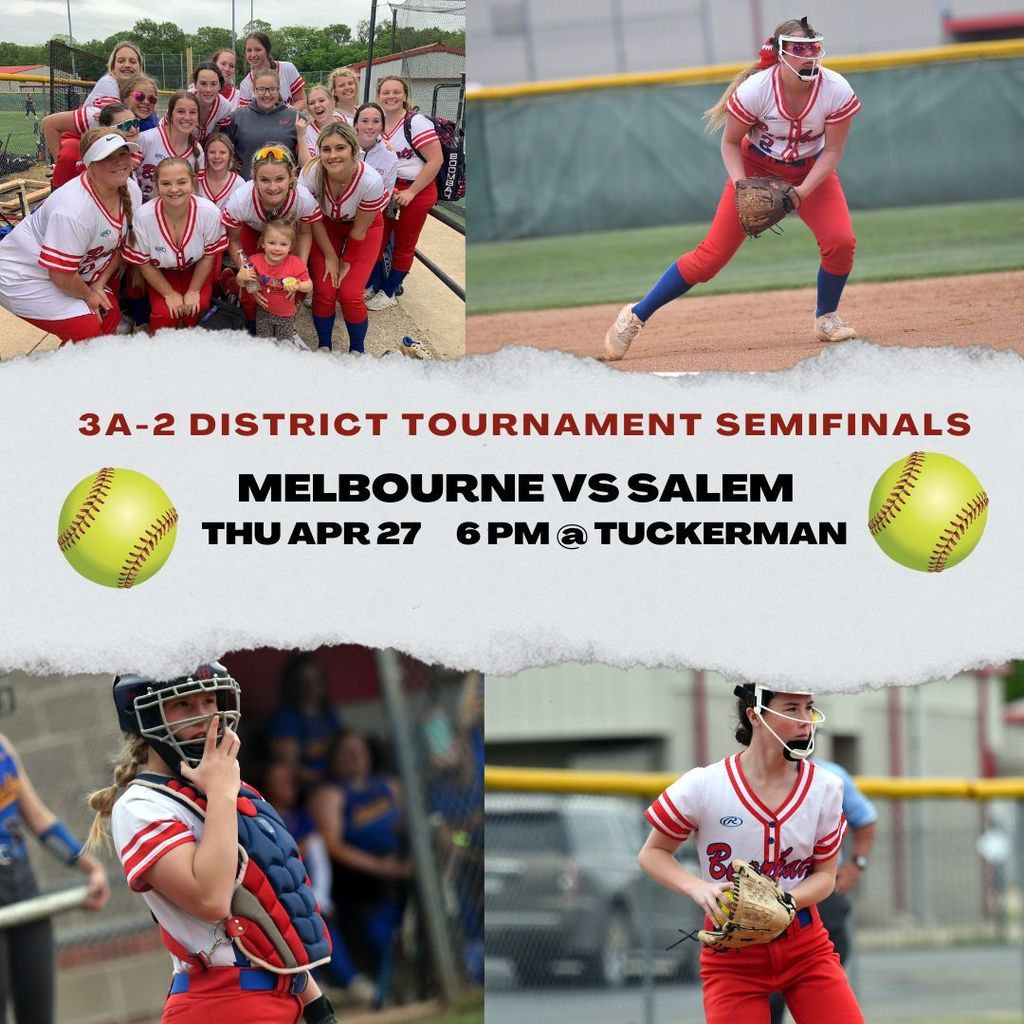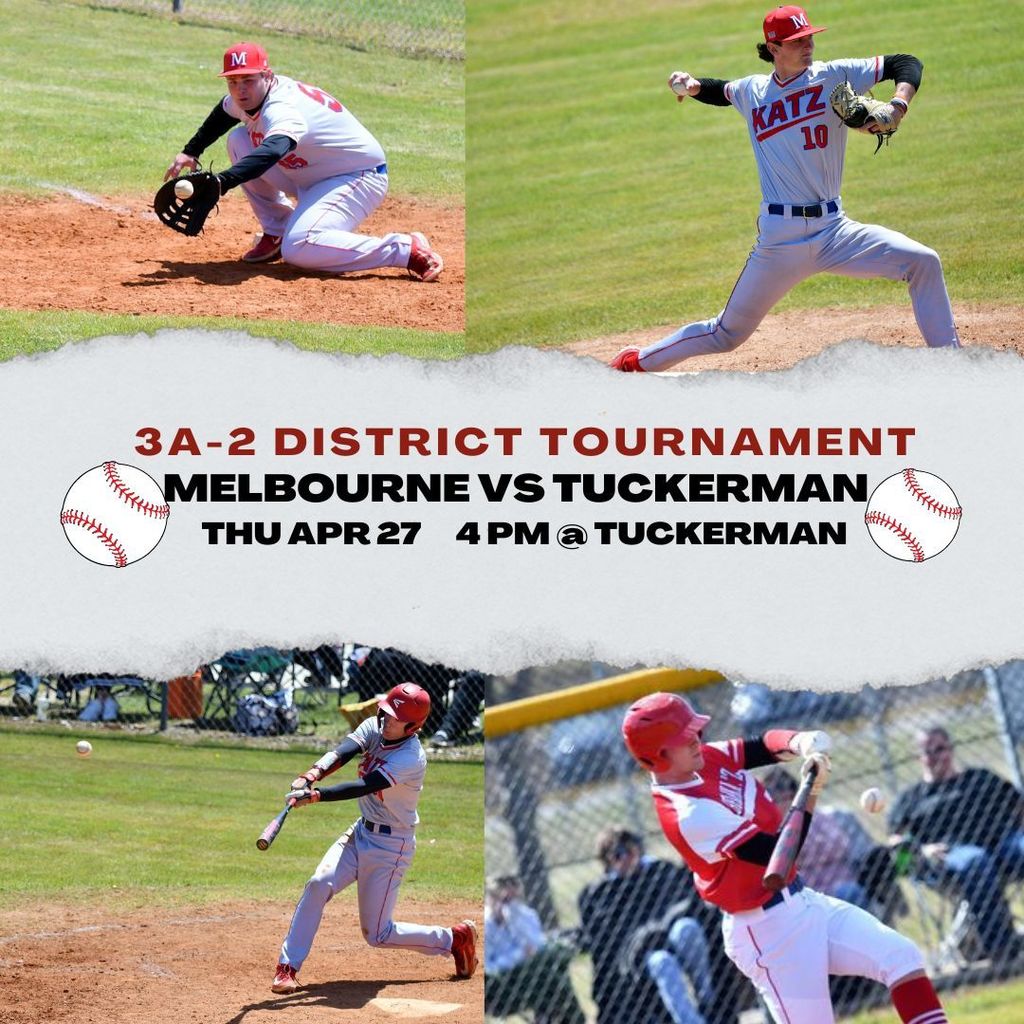 Attention Seniors 2023 Chromebook Return/Check-In is now open for Sr's 2023. Chromebooks must be returned before graduation. Please return to the MHS Library with the charger and it should be 100% fully charged. Make sure Mrs. Adams checks in the chromebook and charger. Do not just leave them in there unattended. Thank you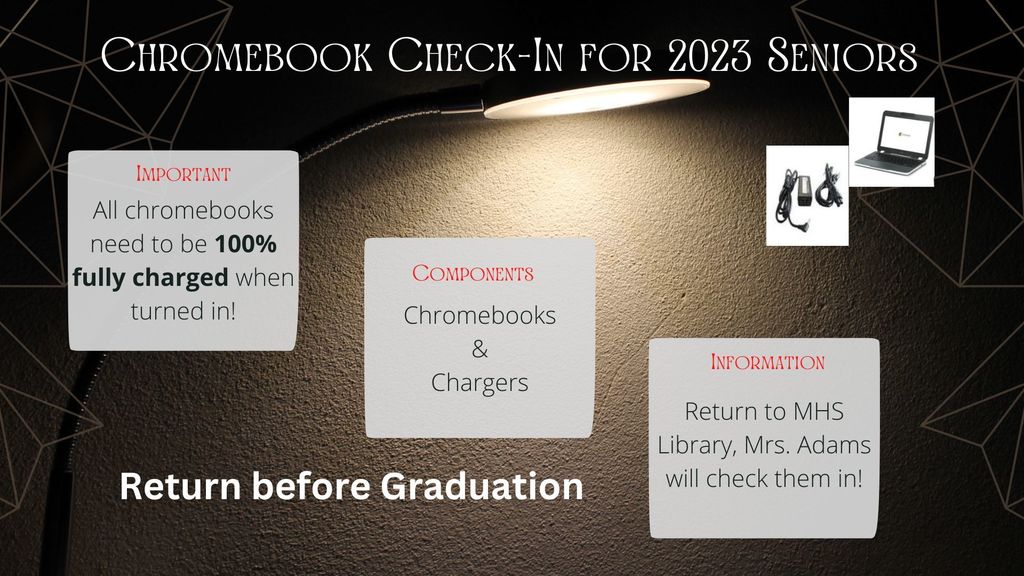 Special School Board Meeting - Tuesday, April 25, 2023 5 PM Central Office

Softball District Tournament Wednesday, April 26 4 PM at Tuckerman vs Mountain View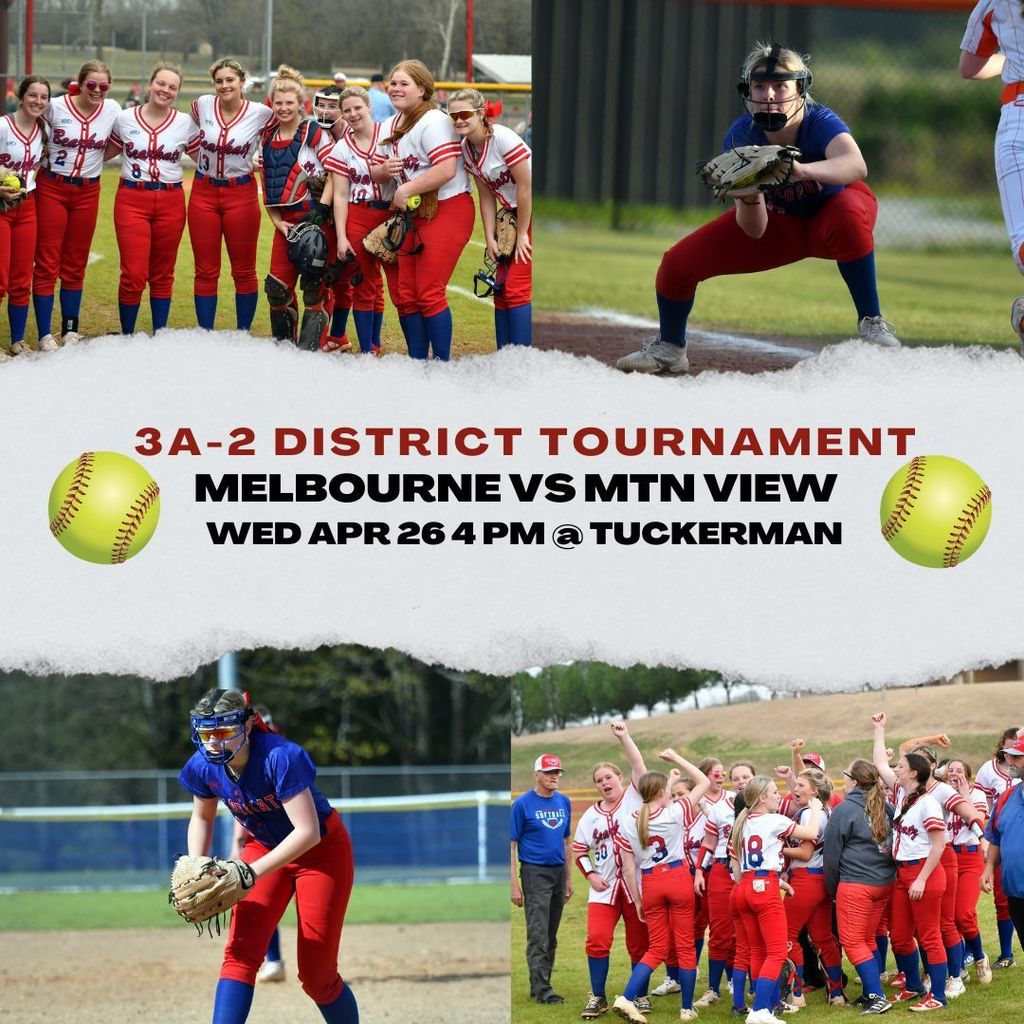 Updated Softball Schedule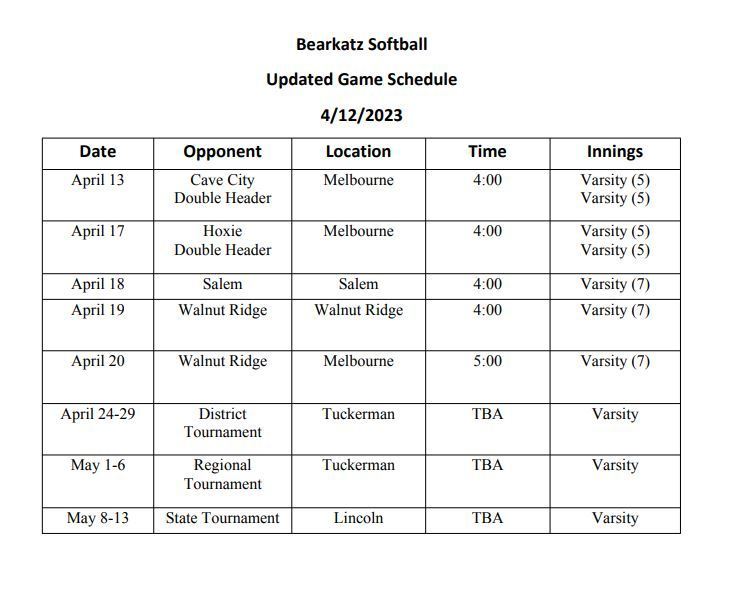 The April School Board Meeting has been rescheduled to April 17, 2023 at 5 PM.

Softball and Baseball games are cancelled for today 4/5/2023 due to weather.

School will dismiss at normal time today. The severe weather threat has passed by at this time.

Kindergarten Registration April 6, 2023 8 AM - 4 PM PLEASE BRING: Birth Certificate Social Security Card Immunization Record Health Screening Students must be 5 years old on or before August 1, 2023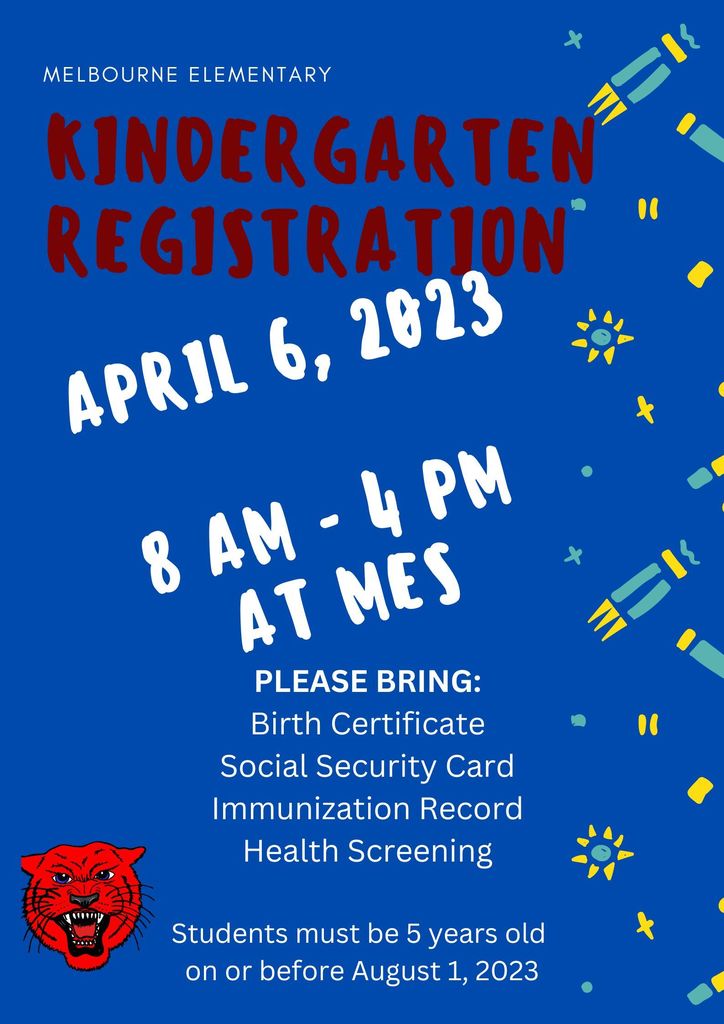 Join the MHS Baseball and Softball teams for a skills clinic for your little slugger! Open to all ages, from T-Ball to 6th grade, any school district Date: Saturday, April 8 Time: 9am-11:30am Location: Melbourne City Ball Field (Cone Field) Camp Fee: $30 Registration is recommended but not required. Register at: tinyurl.com/katzball23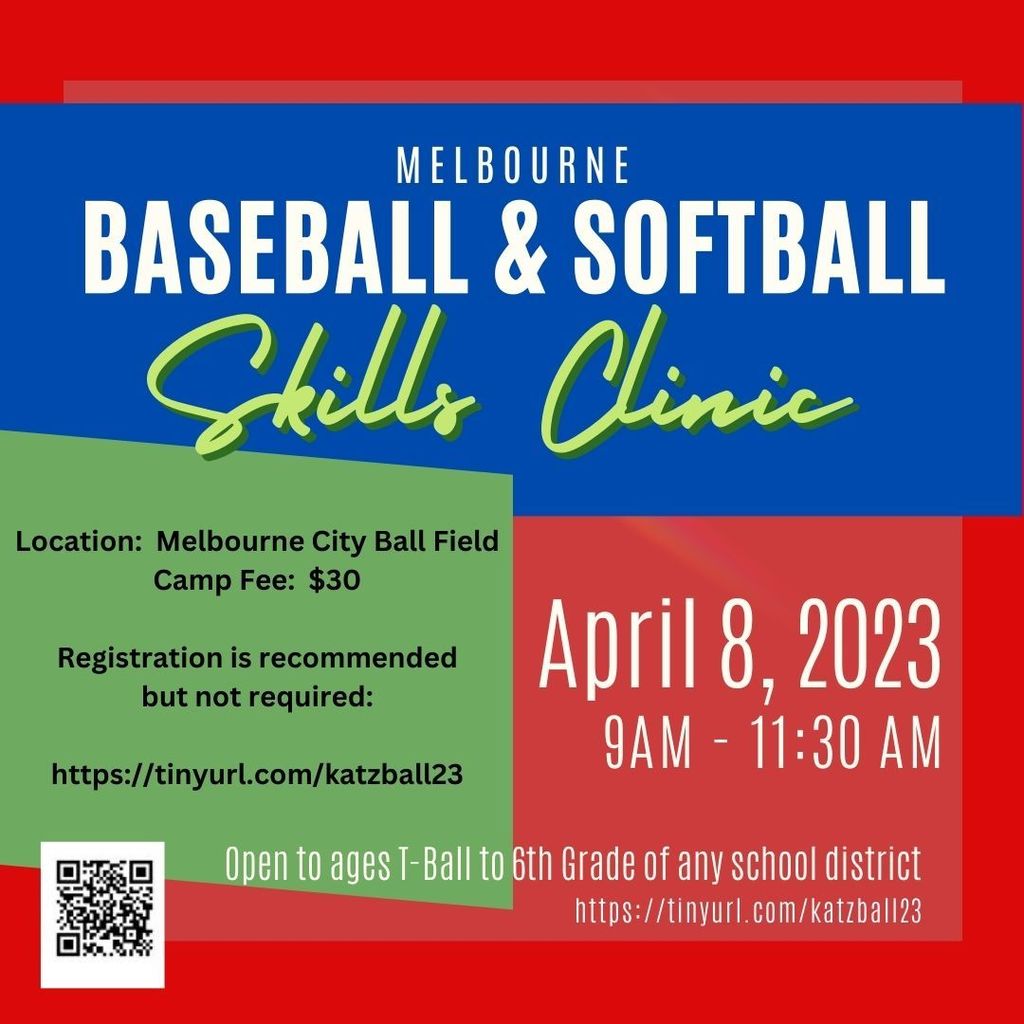 Lady Bearkatz State Bound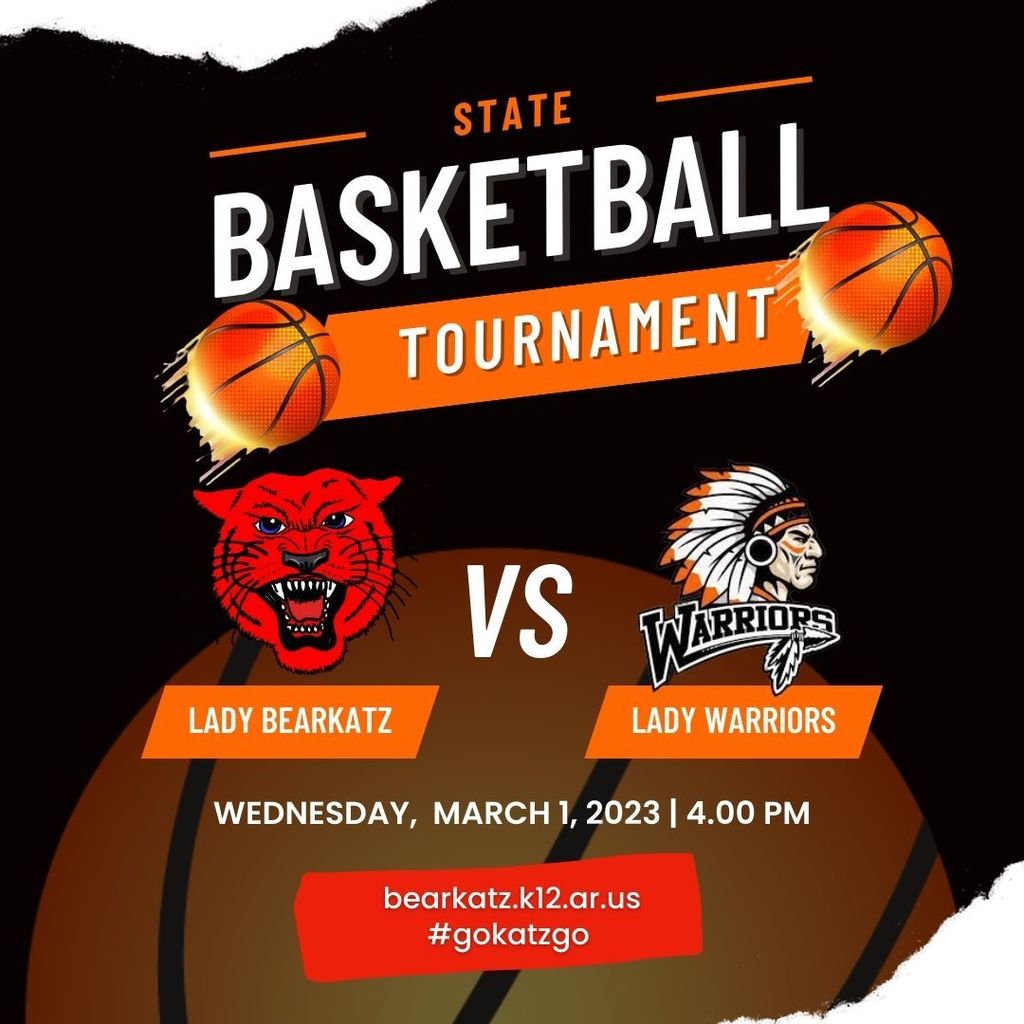 Melbourne School District will be closed Friday, February 3, 2023. AMI Day 7!